Smart Light Bulbs: General Overview
A smart light bulb is a device allowing one to control the lighting remotely – from any place at home and even from the outside. In addition, it can work with other devices, such as a motion sensor, speakers, or even a TV.
One of the basic features of such a bulb is adjusting lighting to the time of day, circumstances, or one's mood. You can switch the light from warm to cold with a white tunable bulb. A color-changing bulb allows you to fine-tune the color of your lighting. So you can easily turn a cozy room into a bright party space or create a reading nook in your kitchen. You can adjust light intensity with both types of bulbs. Some smart bulbs get connected with each other and other devices through a hub. Others can be controlled right via Bluetooth or Wi-Fi.
If you are already fascinated with an opportunity not to enter a room (or a house) to switch lights in it, we have got a big surprise for you. You can use them for multiple purposes which will make your life easier and safer. Below, we have collected the best tips on how to choose, use, and truly benefit from a smart light bulb. Besides, here, you will find smart light bulb reviews based on a number of actual product features.
Forcing Tomorrow or Enlightening Today?
Although the smart light bulb market has grown tremendously, some people are still not sure whether they should start using smart bulbs in their homes. Of course, some don't really trust the idea in general. Maybe, manufacturers say 'smart' but, in reality, it is just a good LED bulb? The majority don't question the quality of a smart bulb as it is. Everybody understands that there are options and at least one of them is good enough. But most people doubt whether they need such a device at all. Couldn't we just stick to a good old LED bulb? Isn't it too much to have a SMART bulb? What's next? Robots? Such ideas are quite understandable because people trust something they are familiar with eagerly and can't really trust new things that seemingly don't fit their reality. However, don't you think that such an approach is a little technophobic? We can live without smartphones, but we choose not to because they give us a lot of useful and, to be honest, entertaining features. The same thing is with smart light bulbs.
Do We Need Other Options?
In the recent years (a couple of decades, actually), the marketing process of new bulbs has been built on energy consumption. This is so right because saving energy also means living a more eco-friendly lifestyle. Frankly speaking, it also means saving money. But over the years, the idea of reducing energy consumption has become a little faded. People have started to take it for granted. Less energy — good. More energy — worse, but if a bulb is much cheaper — might be fine. This formula doesn't work, however, with incandescent bulbs. And there are many reasons for that, not just the fact that they consume way too much energy. They get hot, so it is really unsafe to use them within reach of children. Their glass bulbs are too fragile. Moreover, support wires are getting broken easily. If you drop a lamp with such a bulb, they get broken. Even if you install this bulb above the door, after a while, they are broken because the door gets shut. These are the things that every one of us has experienced in our lives at least once. Compact fluorescent bulbs are a better option. These are not the models we have dealt with before. Each year, they are becoming more modern to meet all the requirements of buyers. However, the issue of energy consumption rises again. At this point, a LED bulb is a 100% winner.
So, the race could have continued the way it has always been. But today we have got an opportunity to change our attitude to bulbs forever. Smart light bulbs have rushed into our lives as furiously as smartphones have done. There were some prototypes. Then, everyone heard a little about them. After a little while, a few wealthy dreamers could say they have a smart light bulb in their homes. And finally, they are produced for the mass market, and everyone can afford to buy one. Or two. Or fifty, like some well-known manufacturers that inspire us by creating hubs that allow installing this exact number of devices.
What Are the Benefits?
 Smart bulbs are convenient. They don't have just an extra feature or two; they actually make a difference. If you have a house or a big apartment, imagine how great it would be to turn the lights on and off in any room without even getting up from a chair. It may seem fancy at first. But think, how many times in your life you have actually needed it? For example, when one of your guests goes upstairs, and you are too busy to show where a light switch is. Or when your kid leaves his or her room and forgets to turn the lights off. Again. Or when, once you get in bed, you remember that you have forgotten to switch the lights downstairs. Have any of such things made you rush to a light switch no matter what you were doing at that moment? You say 'Sure!' today, but after some time using smart light bulbs you will totally forget about it. What you need to control your smart bulbs is a wireless connection. When choosing between Bluetooth or WiFi, mind that the area of Bluetooth covering is very limited. In a small apartment, a cheaper smart bulb with a Bluetooth connection will do, but larger areas leave you no choice than to spend some extra bucks.

 Smart bulbs change light intensity. Another important feature is dimming. Many people still think that dimmers are only used to create a romantic atmosphere. Unfortunately, it is not necessary in many homes. Besides, there are perfectly happy couples who can create whatever atmosphere they want without any dimmers. So, there is no need for a dimmer at all. Especially, in the one controlled by your smartphone, right? Wrong! The main idea of a dimmer is to let your brain rest from excessive light. Recent research has shown that we fall asleep with less effort if we reduce any lights at least two hours before we go to bed. That is why dimmers should be an indelible part of your life, as long as you want to stay healthy and productive. The easier it is to get to a dimmer, the higher the chances that you will not forget to use it. And a smartphone is always somewhere close.
 Smart bulbs change colors. This is an additional perk of having a smart bulb. Or a SMART-smart bulb, if you like, because not all of them can do it. White tunable bulbs are an exceptional option, too. But let's talk colors. There are two main ways you can implement color changing. We have mentioned the first one earlier. Our brain needs less light in the evening. Moreover, the light has to be warm. If you have a color-changing bulb, you can choose from a lot of options, not just different shades of white. Another way is to make the color a part of your interior. No surprise that the overall atmosphere can be changed significantly by using different lights. Now, imagine that you can change it any time you like! Isn't it worth buying a smart color-changing light bulb?


 Smart bulbs pay. It is true that smart bulbs are more expensive than any other type of bulbs. But as we've mentioned, they consume less energy. This is where you save quite a sum each year. Add to this the money you save when you buy one expensive bulb in ten years, as opposed to a cheaper bulb once a year or even once a month. If you don't really appreciate bulb shopping, you shouldn't even think about incandescent light bulbs that get broken almost every week. Plus, you really reduce energy consumption by using a smart bulb with a timer or motion sensor.


 Smart bulbs are safe. There is a wide range of issues connected to safety and smart light bulbs. From falling down when you screw in and out countless incandescent bulbs to connecting smart bulbs to fire sensors with the help of a hub. But there is a lot more:
Above, we have noted that as opposed to both incandescent and compact fluorescent lights that get hot to a different degree, smart (actually, all LED) bulbs stay quite cool. This is not only safe for children who grab whatever they can reach, but also for the whole place. In any apartment, house, and facility appliance overheating is unacceptable. You might think that a couple of bulbs don't count. But consider the number of appliances in your home compared to that in times when incandescent lights were the only option.

As for breaking a bulb, it might seem to be equally dangerous for all types. In reality, many smart LED bulbs are impact resistant. Besides, have you known that there is a small amount of mercury in compact fluorescent bulbs? It makes them harder to utilize when they get broken. Smart bulbs, obviously, don't have such a downside.

Smart bulbs have turned out to be an effective tool to protect one's home from any kind of unwanted invasion. One of the main factors contributing to this is integrating with motion sensors.
What Else
A smart bulb is the first step for you towards creating a smart home. They can be enabled with apps of their own, as well as the leading smart home platforms and services, like Alexa by Amazon, HomeKit by Apple, SmartThings by Samsung, or Google Home. Just picture the opportunities that are open to you! Here are some devices you can integrate into your system alongside with a smart bulb:
Smart socket.

They are very effective as an additional device for a smart light bulb. Among other functions smart sockets have, they are also signal amplifiers which means that they can increase the operating range of the hub.

Motion sensor.

There are bulbs with a built-in motion sensor and bulbs that can be connected to sensor models, like Philips Hue Motion Sensor. Why do we need that? Everyone knows that a bulb that is continuously on burns out faster. If a bulb is switched off when no one is around, it performs perfectly for a sufficiently long period of time. It may be a little less obvious with bulbs that literary can work for years, but there is still a difference. Especially, given that all manufacturers insist that their smart bulbs shouldn't work more than three hours a day. Besides, if you care about energy consumption, you will never be disappointed again about forgetting to switch off the lights.
Smart socket.

They are very effective as an additional device for a smart light bulb. Among other functions smart sockets have, they are also signal amplifiers which means that they can increase the operating range of the hub.

Motion sensor.

There are bulbs with a built-in motion sensor and bulbs that can be connected to sensor models, like Philips Hue Motion Sensor. Why do we need that? Everyone knows that a bulb that is continuously on burns out faster. If a bulb is switched off when no one is around, it performs perfectly for a sufficiently long period of time. It may be a little less obvious with bulbs that literary can work for years, but there is still a difference. Especially, given that all manufacturers insist that their smart bulbs shouldn't work more than three hours a day. Besides, if you care about energy consumption, you will never be disappointed again about forgetting to switch off the lights.
Additional usage of motion sensors with smart light bulbs is to make your home safer.

The circumstances can be different. So, the more control you have over your home, the better. Mind that if you don't want your lights to be on each time your pet enters the room, you are better to adjust your motion sensor.

Sensors can focus on the movement, temperature, sound, and even body weight.

Sound sensor controllers are tuned to a specific sound which is programmable when connected. It can be clapping hands in a certain way, a voice command, or any other specific sound signal. It is better to install motion sensors somewhere in the middle of the room.

Open/close sensor.

Apparently, this sensor tells you about opening and closing windows and doors. It allows you not to worry about the safety of your apartment or house, while you are not at home. You can get push notifications and emails sent automatically by the sensor. It can be additionally integrated with a smart lighting system to create a special 'hello!' effect for uninvited guests.

Smoke detector.

This sensor gives you time to do everything possible to prevent a fire in your home. It is extremely convenient while you are at work or on vacation. Or on the contrary, it can be implemented in your beach house or country house while you are at home. When there is smoke in the room, you are notified with a loud sensor signal, an email, and a push notification. It is very beneficial when a smoke detector can turn on a smart light bulb, as sometimes it is critical.

Geo Tracker.

Although these trackers seem to have entirely different functions as compared to home appliances, they can be easily coupled with smart light bulbs. The point is that a geo tracker knows where you are and, eventually, a smart bulb can switch according to your location.
All smart devices you use are usually united in a system with a hub which controls them separately and allows them to control each other. The hub can have various features itself. For example, it can work as a WiFi router providing your laptop, smartphone, or tablet with Internet access.
Who should buy smart bulbs
Anyone. Seriously, the time when it was only an option for a few enthusiasts is long gone. Today, each and everyone can find a number of advantages in using a smart bulb: house and apartment owners, landlords, leaseholders, office workers, students, parents, etc. Whoever you are, you will enjoy using smart lighting.
Smart Bulbs in the Workplace

Smart bulbs are not only created for implementing them at home. There is a big chance that some of our readers are at work right now. Thanks for finding a moment of your time to look through this article. Now, please, look up and think about the lighting you have at your workplace. Do you consider it to be sufficient for yourself, your coworkers, or your employees?
Numerous research in this area has discovered that the brightness and intensity of lighting influence people greatly. It can affect our productivity and ability to concentrate. Our health also depends on the light. That is why top employers do not allow their staff to work in poorly lighted offices. It may influence their work and have adverse consequences on their health. Indecent employers, on the other hand, try to save money on employees' mental and physical health whenever they have a slightest opportunity to do so. In their offices, bulbs turn into such an opportunity. First of all, people are forced to work in offices that lack proper lighting. Secondly, bulbs quality is usually not the best one. Anyone who has ever worked in an office with a blinking linear fluorescent tube will never forget it.
A lot of bulbs (in the world, probably) have been replaced with LED models. But why don't we consider a smart light bulb as an option? These bulbs can save up to 80% of electricity. During the daytime, when the level of natural lighting is sufficient, the system will reduce the artificial lighting to a minimum. Moreover, the light will be evenly distributed (as opposed to having a window on the other side of a huge room). What is more, the system can recognize which workplaces are empty at this or that moment. When an employee leaves the desk, it will turn off the light automatically.
An employee can operate it with a smartphone which prevents any additional distractions from the working process. It allows having more control over the brightness. You see, different types of activities require different brightness levels. If you or a person who works for you will read under a lamp that shines like the sun or when the light temperature is too cold, the reader's eyes will get exhausted very quickly. What does it mean for one's productivity? Long breaks, a bad sight that slows the process down, unwillingness to work, procrastination, delays with deadlines, as so forth. Is this what you want to happen in your office on a daily basis? Not to mention that there is nothing more valuable than human health. A smart light bulb can solve such problems once and for all. If the level of natural lighting is not sufficient, the system will compensate for it. If you make long breaks as a part of your working process, the brightness of lights can be reduced, and they can get warmer to make your eyes and your mind rest a little.
Such type of lighting integrated into a larger system, alongside with heating and ventilation, can become a real breakthrough in the life of a modern office. Moreover, it provides more effective security in the workplace. A smart bulb integrated with other devices via a hub can protect the office from fire or robbery.
New types of smart light bulbs allow modern employers to save their money and create good working conditions for their employees. However, mind that your goals in the office vary a lot from those at home. So, probably, a lot of smart light bulb functions won't be necessary. You may choose between white-tunable or color-changing bulbs. Of course, the choice is quite obvious — if you have to buy more bulbs and there is no need to create any kind of 'atmosphere' in the office, why pay extra? But this is up to you. What you won't need at all is speakers or alarm clock in a bulb, an opportunity to connect to the Geo Tracker or sync with music on your smartphone. The best thing to do is to pick basic white tunable smart light bulbs of good quality.
Remember that when you buy smart light bulbs, you spend your money on optimizing the working process of your company. Modern technologies, such as smart light bulbs help us save time, energy, and money. No matter what field you are in, these technical advantages will be very useful and convenient. Taking into consideration that the control over smart light bulbs is held with a smartphone, you have a chance to monitor the system in your office. Just buy a smart light bulb that suits the platform you are going use. Look through the list that is given here and make your choice.
How to Choose a Smart Bulb
The only problem you are going to face is the problem of choice. It will be a little easier for those who have implemented the smart light system already because they have some experience. But they might be limited in their choice because some bulbs and associated products can't be used together. One way or another, the variety of options on the smart bulb market is so huge that anyone can get lost. That is why we present you with this guide that will make it easier for you to pick the best lights for your home. Make up your mind and feel all the benefits of using smart light bulbs.
Here are the main points you have to take into consideration when you buy a smart light bulb.
Your budget.

Sometimes it is about choosing between spending $10 or $50 on a single bulb. Sometimes, it is about spending around $1000 on a smart lighting system (created for you by a developer or different brands put together.) Always keep in mind how much you are ready to spend.

Your purpose.

Different smart bulbs have different functions and features. For example, if you want to have parties in your living room, it is sensible to buy a color-changing bulb. If you like to read a lot, try to find a bulb with deep warm shades of white.

Bulb placement in the room.

This point mainly concerns a humidity and temperature factors. In general, smart bulbs can withstand (more or less) the same humidity and temperature. More or less, but not exactly. So, if you are planning to have a smart bulb in your bathroom or kitchen, consider various options before you pick the best one.

Power consumption

. As already discussed, power consumption is what really matters in a contemporary home and office.

Luminous flux.

When buying any kind of bulbs and especially smart bulbs (especially — because of their cost, as you wouldn't probably throw a $30 bulb out), you need to pay attention to the technical characteristics. Otherwise, you can really regret such a purchase. If you install bulbs with insufficient light flux, it can cause problems with your sight. So, you need to choose reliable brands who do not speculate on technical characteristics and offer high-quality products. This leads us to the next point.

The manufacturer.

Cheap smart light bulbs do not meet the declared characteristics. They are overvalued by approximately 30-40%. On the other hand, it can happen that you pay extra for the brand. So, you are better to find the best balance between price and quality. Or, if you are not looking for on-budget offers, buy from companies that have proven their worth, like Philips and Osram, for example.

The quality certificate.

That's easy — any proper appliance should have it.

The warranty period.

Many buyers think that if a bulb works longer than the warranty, they don't need it. This approach is totally wrong. A smart bulb has so many implementations that you will never be able to check all the features and characteristics right away. So, a considerable period of warranty is definitely a sign of an honest brand.

Cap type.

It seems that there are plenty of them. But it is enough to know several basic ones. It is always better to choose the exact size of the cap. However, this is not the only option. There is a cap converter that can adjust any smart light bulb cap to your needs.
A lot of people choose smart light bulbs and many other devices, basing their preferences on the brand or a supporting platform. As you probably know some people prefer iOS devices, while others stick to Android. The same tendency can be observed in the market of smart light bulbs. Here, we can see the clash of brand names, bulbs that work with a hub and those that don't, etc. Below, you can find a fair description of separate bulbs and so-called 'bulb families' united under the same brand. We haven't rated any of them. We don't fear to seem subjective, but we strongly believe that each person decides for him or herself which bulb is a strong A and which doesn't even get a C. This personal gradation should be made in accordance with the criteria listed above.
The products and brands under consideration are:
They all have different prices, features, and characteristics. They all have their advantages, and none of them is a perfect solution for everybody. They are also quite popular in different countries and with different groups of buyers. All you need is to compare them with each other and with your expectations. Remember that when it comes to building a smart home, there are no wrong decisions. In this process, you are a designer and creator of your living area. If you are choosing smart light bulbs for your office, there are more strict rules you should follow. But on the other hand, implementing smart lighting at your workplace has much more benefits than not implementing it. That is why, choosing a smart light bulb, you are on the safe side anyway.
#1 Philips Hue 'Bulb Family'
#1 Philips Hue 'Bulb Family'
When many people think about smart light bulbs, they at once remember about Philips Hue. These bulbs are very popular but are also one of the most expensive offers in the market. Sometimes, there is no need to save your money when you choose Hue smart light bulbs because they will save you a lot more nerves, health, and time. And often, you still really should consider the price, especially if you are up to implement a smart light system for the first time. But these models are still regarded as the most high-quality and durable bulbs all over the world. Philips is not the kind of company that would leave their customers all alone in their struggles to build a smart home. The first step here is implementing The Philips Hue bridge which can connect and configure up to 50 light bulbs. After that, you download an application which gives a lot of freedom to your imagination. The app allows you to tune or adjust each bulb separately. So whether you want to have a rest after a long day in a relaxing atmosphere or to create proper lighting for a family photo shoot — the sky's the limit for Hue smart bulbs.
If you think that all color-changing smart light bulbs are the same, you obviously have never come across Philips Hue Color Ambiance. It has no rival in this area. The bulb can change up to 16 million shades. A lot of manufactures (even in this list) claim that their bulbs can do the same, but not all of them are quite honest. The luminous flux of Hue white-and-color bulbs reaches 800-lumen. The lumen output of a white-and-color Hue varies. Still, if you want to regularly dim your lights to avoid using devices before bed, you might face a small problem. The point is that you can only dim Hue Color Ambiance with the help of your smartphone or tablet. But, to be completely honest, this little 'inconvenience' is not worth your hesitation.
Both bulbs will serve you for 25,000 hours, which is about three years of work without switching them off! But mind that you can't experiment that way with any smart bulb — turn them off when they are not needed!
You can choose either a dimmable Philips bulb or a color-adjustment bulb according to your needs. But, all in all, you will not regret such a choice.
Philips Hue app, obviously, works both with Android or iOS and can be integrated with HomeKit, Google Home, Amazon Alexa, and Samsung SmartThings. This means that when buying a Philips Kit for the first time you really make a step towards creating a smart home.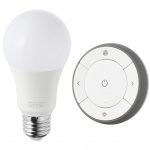 #2 IKEA TRÅDFRI
This is one of the newest products in the market of smart light bulbs and one of the most promising ones. IKEA launched the bulb about two years ago, and today, it can already be integrated with Google Home, Apple HomeKit, Amazon Alexa, etc. All these platforms allow you to manage bulb operations with your voice.
TRÅDFRI is the Swedish for wireless. Wireless, but not independent at all. When you start using IKEA system of smart lighting, you buy a kit that includes two bulbs, a gateway, and a remote. You can purchase other accessories separately. The manufacturer warns that a gateway should be used to manage an app that controls the whole system. Thus, all parts of the system are set together, and each of them is irreplaceable. Actually, incompatibility with other brands is a trait of all IKEA products to this or that extent. But it doesn't make us like IKEA any less.
TRÅDFRI luminous flux is 980 Lumen which is even better than that Hue can offer. IKEA smart light bulb is more than two times cheaper than Philips Hue, and their quality almost totally match. This makes TRÅDFRI a potentially popular product. Today, however, it is constantly being updated and is seen as a developing smart light bulb brand.
#3 LIFX A19 and LIFX Mini Color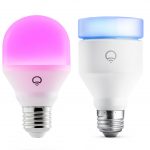 #3 LIFX A19 and LIFX Mini Color
LIFX is as popular in the US as Phillips. They even cost the same. Today, LIFX proposes a variety of products including different sorts of bulbs. To turn an ordinary bulb into a smart one you have to provide it with a remote control function that is operated from an app on your smartphone. A LIFX bulb can do even more. Otherwise, it wouldn't make this list. Similar to a wide range of smart bulbs, these models can change their light temperature. They can produce both cold light that is perfect for working and soft, cozy light for relaxing. The temperature can be regulated from 2500K to 9000K, which are VERY warm and VERY cold shades.
The brightness of a large A19 LIFX smart bulb is 1100 lumen which corresponds to a 100-watt incandescent bulb. Quite impressive, isn't it? A small LIFX Mini Color has a luminous flux of 800 lm. Nevertheless, this bulb glows brightly too, which makes it a perfect device to replace an incandescent bulb of average size. One of the most remarkable peculiarities of both bulbs is that they really can produce around 16 million shades of different colors, just like Hue's can do. No wonder that these brands are always engaged in a competition with each other. An app allows you to choose the color and intensity of illumination or color temperature and level of illumination in the mode of a simple bulb. There is also a menu that gives you a possibility to choose illumination theme (i.e., relaxing, sporty, reading, and many, many others).
Other smart functions of these bulbs include an ability to work with various services and voice helpers. They are Google Assistant, Alexa, and, of course, Siri. The app supports Samsung SmartThings, Logitech Harmony, and other platforms. If you use several LIFX bulbs in your house, you can group them by rooms or areas. This makes the process of configuring all the bulbs easier.
The price of such bulbs is really high, though. We advise you to buy them not as a single smart bulb but as a part of a smart lighting system. In such a case, it will pay back.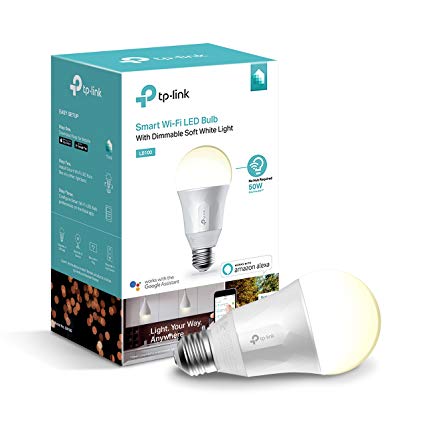 #4 TP-Link 'Bulb Family'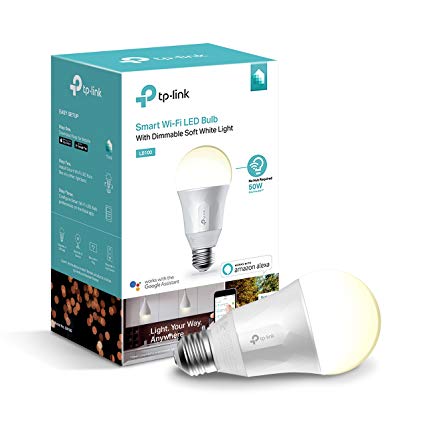 The first thing that should be mentioned about TP-Link smart bulbs is that you get nothing but a bulb when you buy it. It means there are no kits, like Philips Hue Kit, for example, not even a hub. But you know what? These bulbs don't need a hub. This feature can be considered both as an advantage or a disadvantage. Those who are not used to smart light equipment actually prefer this type. TP-Link bulbs simply connect to your smartphone via WiFi. To do so, you use Kasa app that configures your bulbs. There is an opinion that bulbs of the highest quality always use a hub. True, but they cost more. If the price is an issue, you will not regret choosing TP-Link smart light bulbs over more expensive options. Plus, if you think that the features of these bulbs are limited because they do not have a hub, it is not entirely so. If you have additional equipment, like a smart router, you can integrate your TP-Link smart bulbs with different sensors. Besides, they can be connected to Amazon Alexa.
So, you just buy a bulb, screw it in a socket, download Kasa which goes both with iOS and Android and sign in. You can add additional settings up to the name of a bulb. The application allows you to turn the light on and off and adjust its brightness.
There is also a possibility of controlling bulbs remotely when you are not at home. The program allows you to set a work schedule. You can automatically turn the bulbs with the brightness specified on and off at a particular time and day of the week. In the app, you have energy consumption statistic that shows information about operating time and consuming energy per day/week/month. Plus, if you are interested, you can track how much energy your bulbs have saved compared to other bulb types.
Just like many other apps of the kind, Kasa gives you an opportunity to manage multiple devices at the same time. For this purpose, you can use scenes that help you send specific commands to several devices at once. These scenes can be adjusted to your needs.
We've mentioned that when you use any of TP-Link bulb models, you can dim their brightness. However, due to performance issues, manufacturers strongly advise you against using dimmer switches. You should do it with the app.
TP-Link LB100 is the most affordable model in this list. Its main features are stability, functionality, and simplicity of solutions. This white tunable light bulb model can be regarded as a basic one. Its luminous flux equals 600 lm, which is not too bright for a room. On the upside, the price of these bulbs allows you to buy several of them at once.
TP-Link LB110 is a white tunable bulb, too. It is a little brighter (800 lm) but just as 'warm' (2700K.)
TP-Link LB120 is also a white bulb, but unlike the models described above, it has a special mode that changes brightness and temperature depending on the time of the day. The bulb puts out 800 lm.
TP-Link LB130 is a color-changing bulb with deep rich colors that can be compared to Philips (in some aspects.) These bulbs are cheaper than Hue's, but they still can't be called an on-budget solution.
#5 Yeelight Blue
Yeelight Blue II is one of the most popular bulbs produced by Xiaomi. These bulbs are low-power and are primarily designed for use in desk lamps or for decorative lighting; still, they can lighten up a small room, too.
Yeelight communicates with a smartphone via Bluetooth. This doesn't give you an opportunity to control the device from afar. Yeelight Blue II may not be an ideal light bulb, even in comparison with 'not-that-smart' LEDs, but it is definitely an excellent product for its price. A bulb doesn't just look expensive, but is impact-resistant – so you can safely drop it without any negative consequences.
The bulb consumes 6W and has 500lm luminous flux, which gives us the light of a 40W incandescent bulb. Like any other smart bulb, it can switch from warm to cold light shades in an instant. It is also color-changing.
The app controlling such bulbs is called Yeelight Blue and is available for Android and iOS. It has a function of adjusting all bulbs simultaneously and/or separately. So, you can easily adjust the settings according to the current situation. The app allows you to adjust color temperature;  brightness adjustment includes a dynamic color change, too. One of the most fascinating features is the Disco mode that recognizes the music. The bulb also has a timer. Yeelight lives for 20,000 hours which is quite an average lifetime for a smart bulb.
#6 Osram (Sylvania) LIGHTIFY
#6 Osram (Sylvania) LIGHTIFY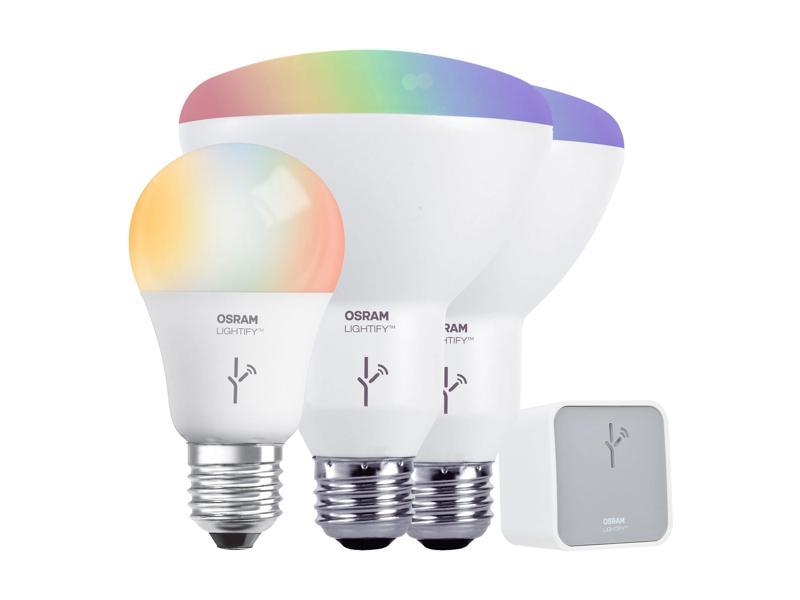 Osram is one of the most respectful bulb manufacturers in the world. Their LIGHTIFY bulbs are solid competitors to the finest brands. If you want to start building a smart home with Osram in North America, you should look for Sylvania as this is the local name of the brand. One way or another, it is better to begin with a Starter Kit. A bulb gets connected to the wireless network through the Gateway, which acts as a bridge between a wireless router and a bulb. With the help of the Gateway, the smart lighting system can be expanded up to 50 light sources.
LIGHTIFY color-changing bulb can be controlled through the app, which allows you to adjust the brightness or change the colors and color temperature of your lighting. The latter can be adjusted from 2700K to 6500K. The application is convenient and easy to manage. LIGHTIFY has a lot of useful functions. It features advanced planning of the lighting sequence, which saves up to 80% energy during the daytime. It can also simulate the presence of a person with light when no one is at home. Osram LIGHTIFY is a great solution that is easy to program any time you want. The bulb will serve you for 20,000 hours.
#7 Mixberry Smart Color-Changing Light Bulb
#7 Mixberry Smart Color-Changing Light Bulb
Among other products of the company, Mixberry produces a wide range of bulbs. If you are thinking of buying a smart light bulb, you should really take a closer look at Mixberry Smart Color-Changing Light Bulb. The device has a lot of settings and functions. They are adjusting light temperature, syncing with music, setting a timer. You can even use a bulb as an alarm clock. The majority of contemporary people experience difficulties waking up. Some just can't force themselves to go to bed early. Others don't consume enough vitamins, which influences their sleep. Awakening also depends on the time of the year. Wouldn't it be nice to have another trigger to wake you up on a cold dark winter morning and feel like it is summer already? Adjust alarm in your smart lighting app, and you will be able to do it.
This is a color-changing bulb, and there are 16 million of shades in its palette. Mixberry consumes 7 watts and gives maximum luminous flux of just 560 lumens which is quite rare in the market. But this is not as much a disadvantage as a sign of stable work. The manufacturer states that the lifetime of the bulb is 50,000 hours which is more than most competitors offer.
The bulb is operated by smartphone via Bluetooth (that brings us certain limitations) and an app which is very easy in use. You can create a system of 12 smart bulbs and customize each separately.
#8 BeeWi Smart Color Light Bulb
#8 BeeWi Smart Color Light Bulb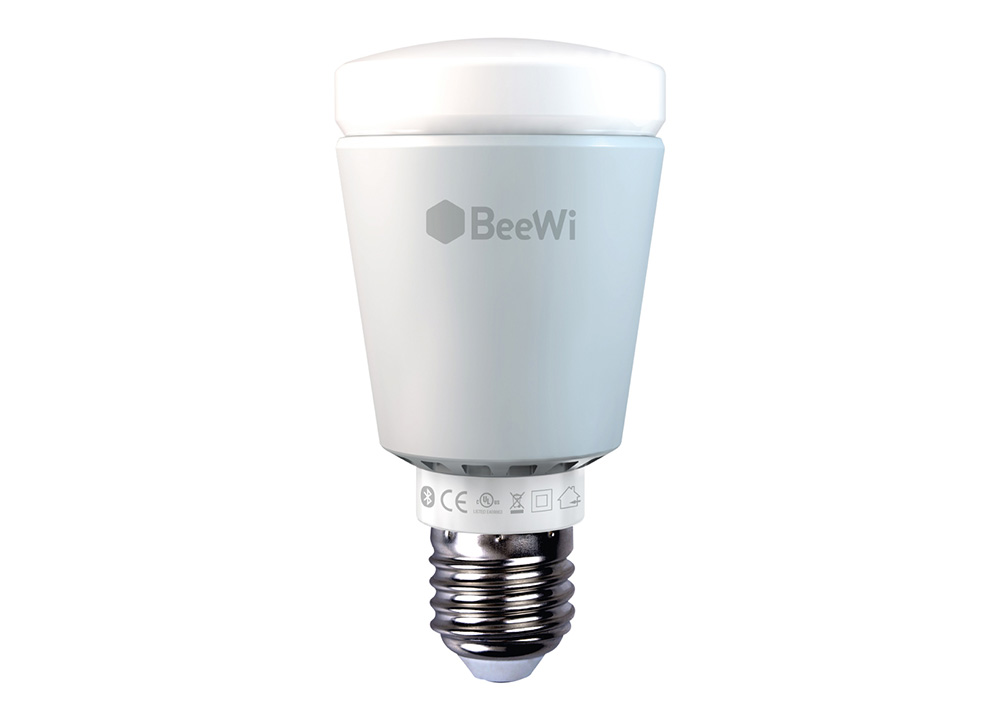 BeeWi bulb can definitely act as a competitor to the leading models. Its luminous flux is 750 lumens, which is equivalent to an ordinary incandescent bulb of 60W.
The lifetime of a bulb is 15 000 hours when used for 3 hours a day. Its white color can be adjusted from an exhilarating cold in the morning to calming warm before the bedtime. Trying to match up to the top brands, BeeWi included 16 million shades color changing to their features. They might be not as deep, but the fact is still very remarkable. The bulb is connected to a smartphone or a tablet via Bluetooth with a limited range. However, this is still not a bad solution for a small place. It is very convenient to use preset scenes in the application. One can fairly state that the bulb offers the best value for its cost. The price of a product is about $40 which makes it quite a good offer and boosts its compatibility a lot.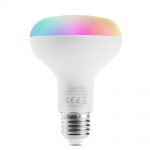 #9 Lumiere LYD003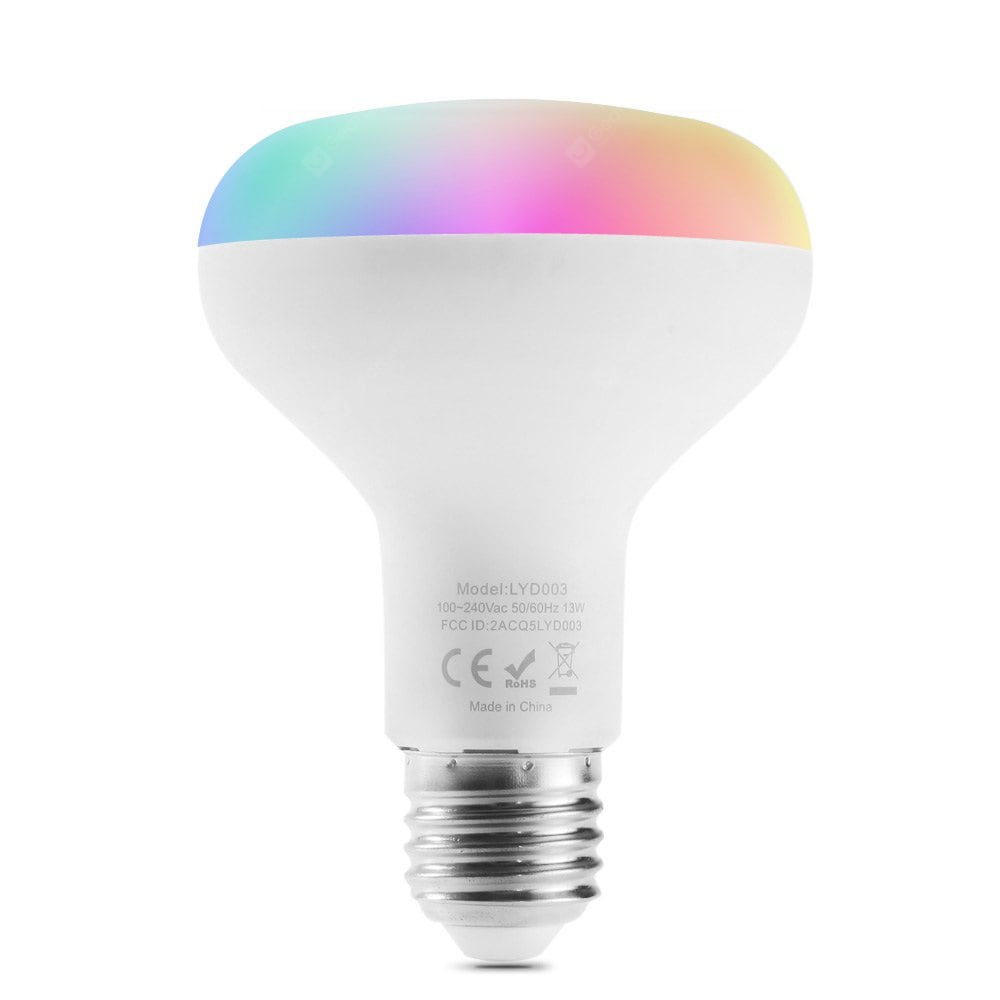 This brand has a dynamically developing and expanding the range of smart light bulbs. Their LYD003 is one of the best about-thirty-five-bucks offers you may find. Lumiere has a whole range of advantages. Among them, one should mention a long lifetime and incredible luminous flux. It has a color-changing feature and, of course, adjusting temperature of the white light. We see any moment of our lives in certain colors. When you use Lumiere color-changing bulbs, you can adjust not only a bulb itself but also your mood and perceptions. The most ordinary evening together with your partner can turn to the most romantic experience ever. A usual game with a kid can turn into a magical moment that will enchant you and bring you back to your own childhood. It is true that this bulb consumes more than many other models on the list. Its energy consumption is 13 W, while the average one varies from 6W to 8W. But, please, mind that a Lumiere bulb gives the luminous flux level of 1100 lumens, like approximately 1.5 smart light bulbs, and costs the same. Or even cheaper, if you compare it to a Hue or a LIFX bulb. You can manage a bulb via Bluetooth.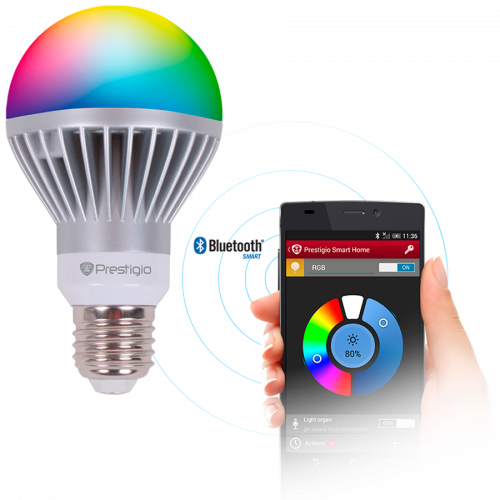 #10 Prestigio SmartLight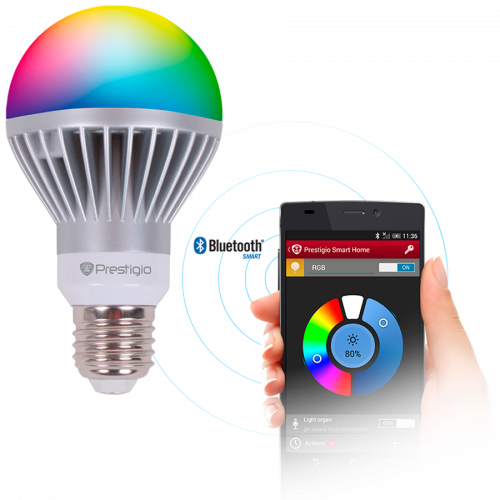 Prestigio has two smart light bulb product lines so far. The first one is color-changing smart light bulbs, like SmartLight E27 (9W). They can change the brightness of illumination in a wide range, the color temperature (from 3000 to 6000K,) and even the color itself. It is nice from a manufacturer not to promise 16 million shades. They just state that a bulb changes shades from red to blue. These bulbs come with the most common cap types. The second line is white tunable bulbs. They change light temperature from 3000K warm to 5000K cold, consume 7 W, and have only E27 caps. The luminous flux of these bulbs is 800 lm.
All bulbs are controlled through the Prestigio Smart Home application. It is currently available for the Android platform only. A bulb connects to the app via Bluetooth. You can control all (or some) bulbs as a single group or independently.
Prestigio SmartLight bulbs have a lot of features, both practical and entertaining. One of the most remarkable ones is Light Organ. As it is clear from the name, it 'transforms' music into colors. Similar features can be found in other models (under different names), but Prestigio has managed to take their Light Organ to a new level. This makes it perfect for both a party and a romantic dinner.
The Takeaway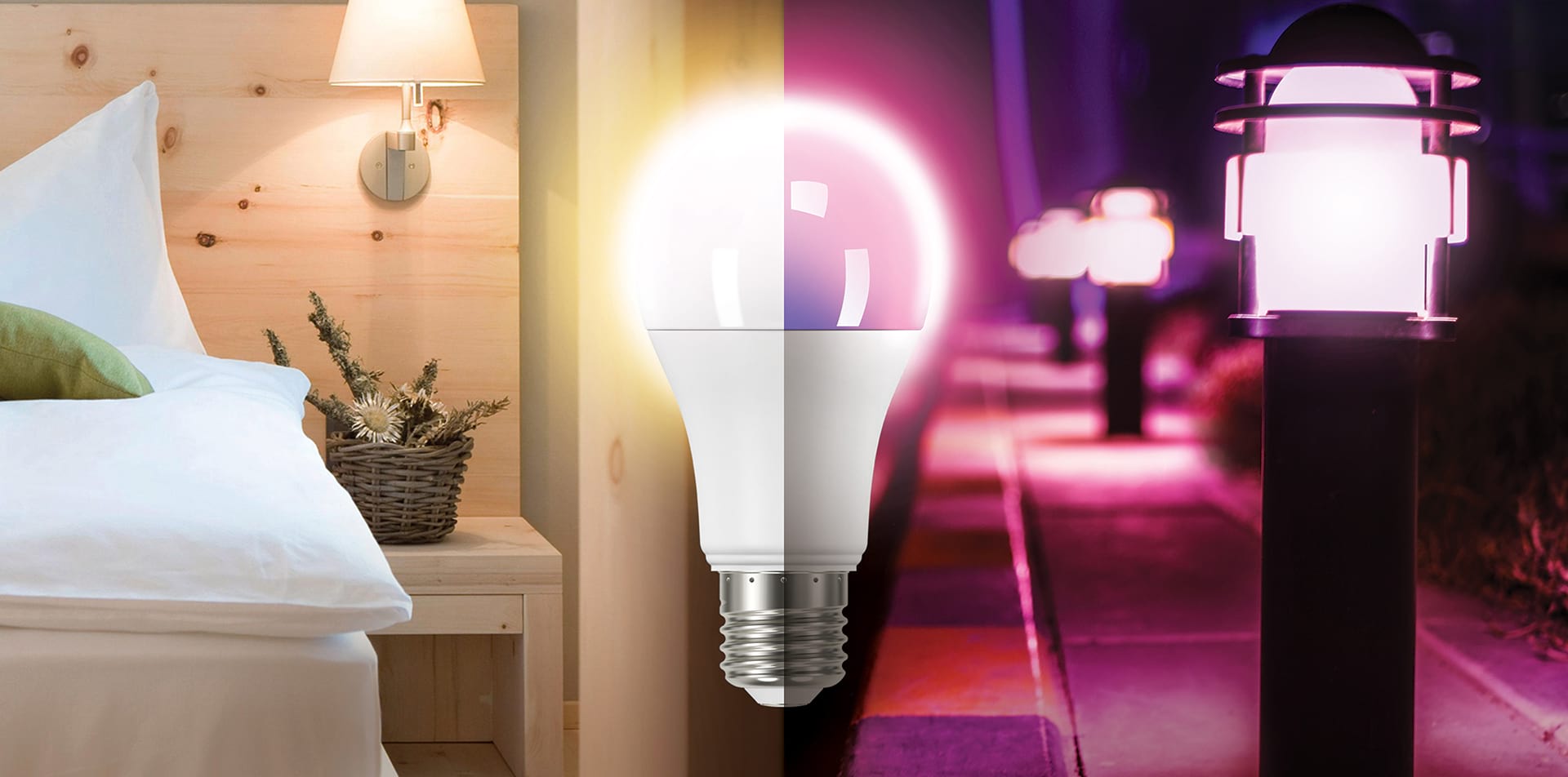 There are still very few homes and offices equipped with smart bulbs. Ordinary bulbs, like compact fluorescent and, especially, incandescent ones, are less expensive than smart light bulbs. Plus, a lot of people are not ready to start using smart technologies in their homes. Besides, there is no need to replace all ordinary bulbs with smart ones. But neither incandescent or fluorescent bulbs give us with the flexibility that is so needed in our era of the Internet and new technologies. We are used to simple bulbs which are just binary devices. The only two things we can do with them are to turn them on and off. There may be a dimmer, but no more functions and modes. We actually didn't think we needed anything else before a smart bulb appeared. Since the 19th century, the humanity has been happy they had a chance to switch lights with a button on the wall, and not by applying matches to candles. Nevertheless, no one can deny that the future is already here. It has brought us devices that seemed surreal and impossible to construct only 50 years ago. Smart bulbs are a relatively recent invention, which is why we need some time and effort to accept them.
It's true that smart bulbs work quite differently if compared to an ordinary one. They are connected to a network, either wire-connected (a little earlier) or wireless (today.) A network created with a special hub gives you more opportunities to control everything from the brightness of light to defining external conditions that influence the work of your smart bulbs. There are a lot of models today that operate without a hub via Bluetooth or WiFi. This, on the one hand, makes smart lighting less pricey, more flexible, and easier to implement. But on the other hand, such a system is limited in its features and can be called half-functional. The cheapest models of this type are just 'not-so-smart' bulbs that are operated by advanced controllers.
The point is that you don't have to spend a fortune to try and use a smart bulb. But when you buy your first one, even if it is the most basic model, you will certainly see the difference.
Here, we have offered you descriptions of the most popular smart light bulbs that can be found in online and on-site stores. Some of them can be considered to be the next step in this innovative technology. Others, in turn, are just replicas of leading models. They might have fewer functions and some flaws, but their price is so attractive that it allows them to get a significant share of the market. You have to weigh all pros and cons of the product and pay a lot of attention to your goals and budget before you can make the right choice.